The 2017 APS Conference for Undergraduate Women in Physics at the University of Wisconsin-Madison was held on January 13-15, 2017 in Chamberlin Hall (1150 University Avenue, Madison, WI).
The American Physical Society (APS) Conference for Undergraduate Women in Physics (CUWiP) is a series of regional conferences held simultaneously around the United States for undergraduate women interested in physics. The goal of this conference series is to encourage undergraduate women to pursue a career in physics by giving them the experience of a professional conference. This includes networking with women in physics of all ages and professional levels, plenary talks by prominent women in physics, and panel discussions providing information about graduate school and career opportunities in physics.
The University of Wisconsin-Madison CUWiP hosted by the Department of Physics featured presentations by female physicists and educators in academia and industry, a lively career panel, laboratory tours, a student poster session, and opportunities to network with accomplished women in the field.  We had over 140 undergraduate participants from the Midwest (Wisconsin, Minnesota, Illinois, and Iowa) in attendance. It was a fantastic event!
The other 2017 CUWIP conference sites are: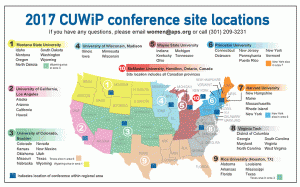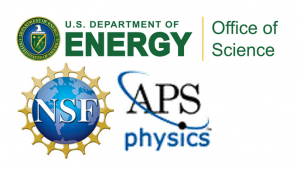 The Conferences for Undergraduate Women in Physics are supported in part by the National Science Foundation (PHY-1346627) and by the Department of Energy Office of Science (DE-SC0011076).  Further details are available on the APS conference website